Youm-e-Istehsal: A year of lockdown in Kashmir
India rides out a year of disquiet in the occupied valley
12 months ago, on August 5, the Indian Illegally Occupied Jammu and Kashmir region was stripped off special autonomy when the Narendra Modi government split it into two federally controlled territories – a move widely condemned by Kashmiris and Pakistan alike.
Since then, the picturesque valley has been flooded by the occupying troops with thousands under arrest with the Indian government imposing harsh restrictions on movement and levying a communications blackout.
A year later, the Kashmiris remain under a lockdown with internet restrictions while Modi continues to disregard appeals by human rights organisations and international community to end the curbs.
Read The Express Tribune's special coverage on the one-year anniversary of the abrogation of autonomy.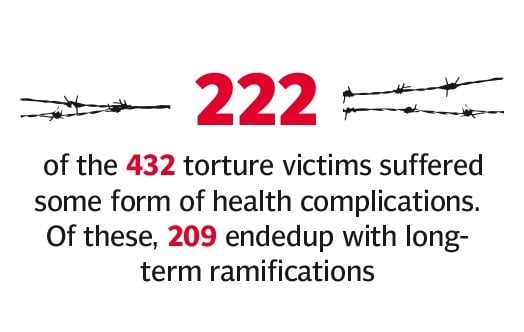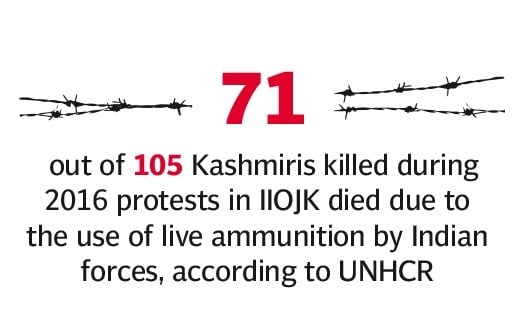 India bit off more than it can chew

Facing lockdown and a near-total communication blackout, the people of IIOJK have been subjected to unparalleled humiliation and human rights violations.
A giant open-air prison
According to the United Nations High Commissioner for Refugees (UNHCR), more than 1,250 Kashmiris have been blinded by metal pellets used by Indian security forces from mid 2016 to the end of 2018.
India uses sexual violence as a weapon
The Modi's Hindutva supremacist government continues to use rape and molestation as a 'weapon of war' and 'collective punishment' in the occupied territory to suppress the legitimate right to freedom of the innocent Kashmiri people.
Families disconnected in IIOJK amid blackout
The world has had very little contact with the occupied state, as troops continue to patrol the area—the cadence of thumping boots the most deafening amid state-wide blackout. However, it is the millions of disenfranchised civilians who have been caught in the crosshairs of this political turmoil and cut off from their families on the other side of the occupancy.
Violence continues unabated in IIOJK
India's illegal action in the occupied part of Jammu and Kashmir that it claimed would bring peace and development to the disputed region has in fact "only brought more violence and uncertainty," according to an article published in a prestigious American magazine.
'India has to pay for its crimes in IIOJK'
What IIOJK witnessed on August 5, 2019, was the continuation of the Indian suppression that started in 1947. On that day, Delhi snatched Kashmiri people's right to self-determination and occupied the whole region by force.
Modi receives flak for occupying Kashmir
An increasing number of independent observers have taken their criticism of the Bharatiya Janata party's (BJP) decision to proceed with the illegally annexation of the territory to the Social Media.
PRODUCED BY: NIHA DAGIA
ZEESHAN AHMED & HAMMAD SARFARAZ
PHOTOS: REUTERS, INP
ILLUSTRATION: IBRAHIM YAHYA & MOHSIN ALAM
Copyright © 2023 NEWSLAB. All rights reserved