It is at the World Cup that legends are made, where good players become greats and the greats become the best. Every footballer dreams of playing at the biggest sporting event in the world as the best pit themselves against each other in a bid to define legacies and careers. The Express Tribune's panel takes a look at 10 players that will be key to their team's chances at the World Cup and are expected to light up Russia.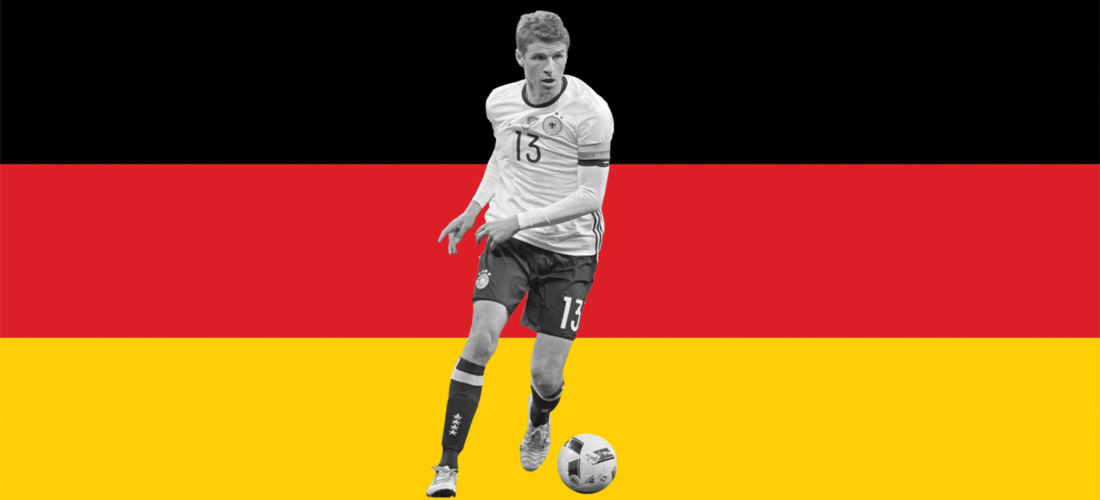 No one epitomises Germany at their best better than Thomas Muller. Simple, effective, efficient and intelligent, few players in the world thrive more under pressure than the Bayern star. Criminally underrated, Muller won the golden boot in 2010 and the silver boot in 2014 with five goals in both campaigns and the 28-year-old will have his eyes set firmly on compatriot Miroslav Klose's record World Cup tally of 16 goals. He may not possess the tricks of Neymar, the dribbling of Eden Hazard or the pace of Mo Salah but make no mistake about it, Joachim Low would not swap Muller for any of them. Nicknamed the interpreter of space for his almost uncanny ability to find pockets of space in the final third, Muller's goals may well be the most vital piece of the puzzle if Germany are to defend their title.
For Thomas Muller, it's not about brushing off defenders. The 28-year-old is almost unstoppable because of his ability to do what others cannot: find space. The lanky German is not your typical goal-scorer, and that's what makes him so hard to play against. Opponents can deal with the typical forwards. But dealing with Muller always seems to prove to be a challenge. Depending on the formation coach Joachim Low goes with, the 28-year-old is able to play a number of different positions up front, making him an invaluable part of the squad. Relying on his intuition, Muller will be representing Die Mannschaft for the third time. He already has 10 World Cup goals to his name, just six behind compatriot and highest scorer Miroslav Klose. And just like Klose, Muller only seems to get better with age. Always at the right place at the right time, Muller might not be the most aesthetically pleasing player on the pitch but he's the most efficient. It would be foolish to judge how Muller might perform given his recent club records (15 goals in 45 appearances for Bayern Munich). Anytime he puts on a German shirt, he seems to go into overdrive. If skipper Neuer misses out on matches due to injury, the 28-year-old will also be shouldering the responsibility of wearing the armband. A true leader and professional, there is absolutely no doubt Muller will be the main cog in Germany's wheel as they go into Russia to defend their title.
Germany's affection for Thomas Muller has only grown stronger with passing time. Since his memorable outing against England at the 2010 World Cup, the Bayern Munich star has established himself as the fulcrum of the side. Muller is one of team's most reliable players, especially during major events. He will be participating in his third World Cup and already has 10 goals in 13 games; making him the man for big occasions. Stylistically, he might not be the most pleasing of players but his effectiveness in front of goal puts him a step ahead of the rest. He can outwit defenders with his pace and dribbling while also being an efficient outlet for the playmakers behind him. The 28-year-old plays with his heart on his sleeve and gives everything out in the middle, often lifting up his teammates with his tenacity and work-rate. As an added bonus, his hilarious antics in post-match interviews are also certain to provide added entertainment during the World Cup.
Thomas Muller is the kind of player all teams will worry about, not because he has the kind of quality that will see him dribble past opponents or play the perfect through ball, but because he is where he is supposed to be every single time. Muller had a decent season for Bundesliga champions Bayern Munich, scoring 15 goals and providing 16 assists in 36 appearances across all competition. The 28-year-old has already scored 38 goals for the national team in 91 appearances, highlighting his threat in front of goal. Muller becomes even more dangerous in World Cups, having scored 10 goals in just 13 appearances. However, with the emergence of young Timo Werner as an out-and-out striker, it will be interesting to see what Joachim Low does in the latter stages of the tournament, as he might have to choose between Muller and Werner as both players provide different kinds of threats up front.
Perhaps for the first time in living memory, England go into a World Cup freed of the weight of expectation. One of the youngest squads in the tournament, with an average of just 26, England are led by the youngest captain in the tournament in 24-year-old Harry Kane — three years the junior of 27-year-old Eden Hazard, who is second on the list. The Tottenham striker may well be the only genuinely world class player in the entire English squad and whatever slender hopes England carry with them to the World Cup are based on Kane's goal-scoring prowess. Manager Gareth Southgate has made the drastic change of removing his 1.88m striker from corner duties and he has flourished under him. Kane had scored just five goals in his first 17 international matches but has since scored eight in his last seven games. While it may be out of Kane's reach to take England all the way, if he continues his recent form then the Three Lions may well end up being the tournament's surprise package.
England skipper Harry Kane goes to Russia on the back of another 30-goal campaign and all of England's slender hopes rest at his feet. Leading a very young squad in his first-ever World Cup, Kane will be hoping to wipe memories of England crashing out of the group stages in 2014. While England failed that year, Kane rose through the ranks as a prolific goalscorer and has become the finest player England has to offer in those four years. A traditional goalscorer, Kane will certainly be relying on service from his midfielders. However, on many occasions, the Spurs star has shown that he can find the back of the net from long distances too, and opponents will try very hard to stop him from scoring. Questions remain over his temperament to lead the team. His decision to claim a goal from Tottenham teammate Christian Eriksen became a social media joke and he will have to realise team unity must trump over individual gain.
Harry Kane seemed to have only two major weaknesses: the month of August and the England shirt. And while his August curse continues, performances for the Three Lions have improved drastically under Gareth Southgate. Doubts remain regarding his performances on the big occasions, especially considering his indredibly underwhelming Euro 2016 showing. England go into the World Cup without the usual media hype and may therefore end up surprising everyone. If they are to do that though, they would require skipper Kane to be at his very best. The Tottenham man has proven his talent across four goal-laden seasons and can thrive with the support of fellow attackers Raheem Sterling, Dele Alli and Jamie Vardy. England are almost certain to return home sooner rather than later, but anything more than the quarter-finals will require Kane to deliver some of his best performances in an England shirt.
Harry Kane has a point to prove and goals to score.  Pivotal to Tottenham's Premier League campaign, the striker has been less impressive for the national team. The prolific goalscorer has netted 13 times in 24 appearances for the national side but failed during Euro 2016 as England were incredibly knocked out by Iceland. A lot can be expected from an in-form Kane, especially if he is aided by a dynamic midfield and paired alongside Manchester City man Raheem Sterling up front. His ability to find the net from distance along with his precision finishing can play a significant role in England's performance. While the forward has tended to choke in big games, he will hope to alter that record during the upcoming tournament.
Eden Hazard is the undisputed talisman of Belgium's golden generation. While his club performances last season were underwhelming by his own lofty standards, there is little argument that Belgium has one of the most talented squads in the competition, and the 27-year-old will be leading The Red Devils as they battle against the weight of their own previous underwhelming performances at major competitions. The Chelsea star can dribble past defenders and score on his own but his playmaking abilities will be just as vital for the likes of Romelu Lukaku and Dries Mertens. An intensely attacking team, the Red Devils scored a record 43 goals in qualification and will be relying on Hazard to pop up with a few more. Pair him with Kevin de Bruyne in midfield and you can expect this team to continue scoring goals for fun. At 27, Hazard enters the World Cup at his prime. Armed with intelligent runs and a natural sense of space, there is little doubt that Hazard will be one of the most entertaining players to watch. And with a legion of stars surrounding him, Belgium have a fair chance of going all the way if Hazard has an inspired campaign.
Eden Hazard has no doubt been Chelsea's star player over the past few seasons, winning two premier league titles and being named the player of the season in 2015. At his best, Hazard possesses the ability to both create and score; tormenting defences with his dribbling and direct running. The Belgium skipper's ability to skip past challenges and create space for his teammates as he draws defenders towards him will be key for The Red Devils. Hazard's runs will also afford Manchester City's star man Kevin de Bruyne more time on the ball, allowing him to pull the strings in midfield.
Belgium are pinning high hopes on talisman Eden Hazard, bearing in mind the World Cup comes with the 27-year-old at the peak of his prowess. A nuisance for defenders due to his skilful dribbling, vision and movement, Hazard will prove a handful for even the best of sides. With Kevin de Bruyne alongside him to share playmaking duties, the 27-year-old will no doubt be more incisive in the attacking half. Hazard also benefits from the fact that both his club and national managers, Conte and Martinez, play a three at the back, allowing him to shrug off all defensive duties and concentrate solely on unlocking opposition defences. The Belgium skipper was not at his best four years ago in Brazil and will be looking to make amends in Russia. How The Red Devils fare will no doubt depend highly on how Hazard performs.
Eden Hazard is a crucial part of what many call the golden generation of Belgian football. The Chelsea winger on his day has the ability to shatter any defensive unit and he will no doubt lead Belgium into the World Cup with a point to prove. The 27-year-old scored 17 goals and claimed seven assists in 42 appearances for Chelsea last season. For Belgium, Hazard has been less prolific and has scored just 22 goals in 85 appearances. The brilliance of compatriot Kevin de Bruyne can sometimes overshadow Hazard while playing for Belgium, but Hazard's unique ability to both create and score will surely help Roberto Martinez's men when they take on stubborn defences aiming to shut out this formidable Belgium attack. With his Chelsea career at a crossroads, the World Cup will allow the La Louvière-born attacker to showcase his skill and remind all potential suitors of his ability.
Producer, Original Content
Produced by: Rahima Sohail
Video by: Narendar Khatri