Reports from the Bhuttos' traditional seat of power suggest the HIV infection rate in the district rivals worst-hit African countries
KARACHI: Pitiable living conditions, a sanitation crisis caused in part by mounds of garbage lining decaying roads, deteriorating healthcare and malnutrition, rising gastrointestinal issues, and now, a shocking HIV/Aids crisis.
This is not a city in Sub-Saharan Africa. This unfortunate situation is in the home constituency of the ruling family of Sindh – Larkana.
This is where Pakistan People's Party (PPP) Chairman Bilawal Bhutto-Zardari has been elected from. It is where his mother and grandfather, former prime ministers Benazir Bhutto and Zulfikar Ali Bhutto were elected from. It is the PPP's seat of power.
But besides the concentration of all this historical power and influence over national and provincial governments, the area has only seen decades of social and economic problems. The sudden reporting of HIV/Aids among at least 73 children in Larkana has rung even more alarm bells.
The city is now wholly in the grip of a healthcare crisis. But this is not the first time or even the first aids crisis. In the last 18 years, it has experienced 'unusual' outbreaks of HIV/Aids at least three times. First, in 2003, the virus was detected at a prison among more than 100 injecting drug users. Then, three years back, 30 patients receiving dialysis at Chandka Medical Hospital, Larkana. Now, we have an outbreak among children.
The surveillance data of diagnostic and treatment centres in Sindh also shows the dark side of the epidemic in Larkana. The percentage of HIV positive cases among women in Larkana is around 17 per cent, against 10 per cent in other areas.
The ethnic diversity of Sindh is different from other provinces. It suffers the most, where the epidemic was noticed earlier, and now sub epidemics are seen in all key populations in most of the major cities investigated. One of the causes of the increasing number of HIV/AIDS cases in Larkana is its geographical and economic importance. It is also a hub of illicit drugs, as a bordering city with Balochistan.
It has established female and male brothels, and a large number of quacks, leading to unsafe injecting practices in formal and informal healthcare settings.
According to data from different rounds of Integrated Biological and Behavioral Surveillance conducted by CIDS-HASP, Sindh is already in the concentrated phase of an epidemic among injecting drugs users (IDU) and male (MSW) and transgender sex workers (TSW).
According to IBBS data, Sindh has the largest number of IDUs in the country, and Karachi is one of the cities at the forefront of the epidemic. Almost half of the IDUs in the city – 48.7 per cent – have HIV/Aids, and 12.9 per cent of TSWs have the disease. In Larkana city, had the highest rate of HIV/Aids among TSWs, at 18.2 per cent.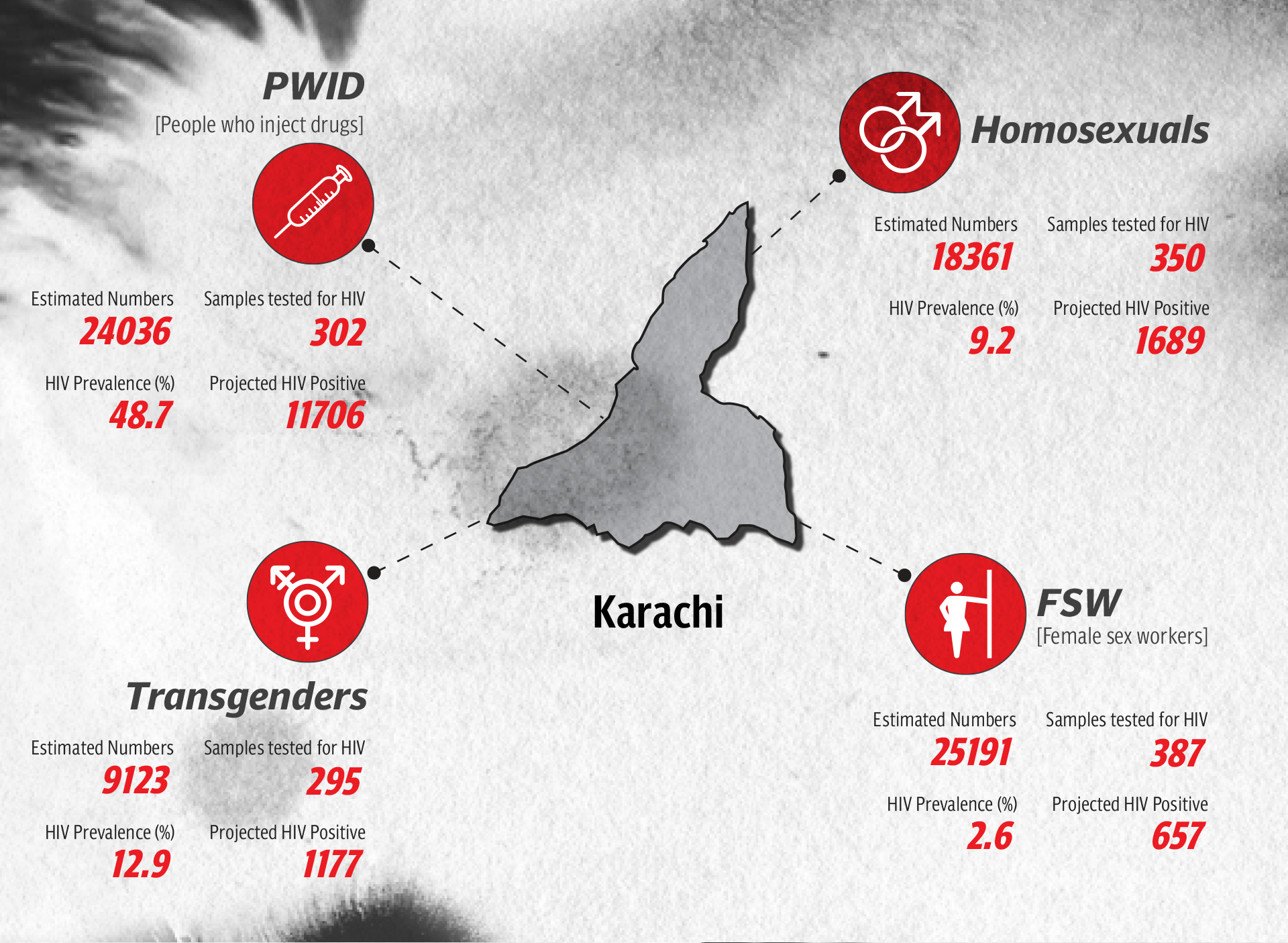 During the last three decades, the HIV pandemic has taken a terrible toll on human health and life. While Sub-Saharan Africa remains the worst affected region in the world, there has long been concern about the emergence of the disease in Asia, where, though the epidemic appears less severe than in other parts of the world, reporting has been problematic.
Pakistan is the second largest country in South Asia, and though it is still behind India and Nepal in terms of HIV prevalence, underreporting may well be a factor.
Unfortunately, no significant interventions for the most 'at risk' populations have been pursued on the ground in the last six years, and the Sindh AIDS Programme has failed to implement its strategic plan, for which funds were available and higher level commitments were present in the form of the HIV and AIDS Prevention, Protection, and Control Act, 2013, and the Fast Track City Strategic Plan.
At one stage Sindh was the leading province in Pakistan and drew back of world bank financing but now situation and ignorance to issue is leading to the same state of generalised epidemic facing some African countries in past.
It's the right time to activate HIV/AIDS Act 2013 on war footing basis to rise above the issue to confront the menace of an increasing number of HIV/AIDS carriers.
Number of HIV-infected people all over Pakistan exceeds 165,000, raising questions over NACP performance
LAHORE: The number of HIV-infected people in Pakistan has crossed 165,000, posing serious doubts over the performance and efficiency of the National Aids Control Programme (NACP). The program appears to have failed to stop the spread of the disease.
As per data released by NACP, however, the number of patients who have been registered with HIV is only 23,000. A surprising thing to note in this regard is that NACP has been quoting the same figure for HIV patients for the past five years. However, the rise in the number of HIV cases, despite billions of rupees granted to NACP, is extremely concerning.
In its written reply submitted to National Assembly, the health ministry has maintained that immediate measures are being taken for patients inflicted with HIV, including the provision of medicines and steps to stop the disease from being communicated from parents to their young children. The ministry has established 35 centres throughout the country for treatment of aids. However, as per the officials of the health ministry, negligence during blood transfusion and use of syringes affected by the virus in the hands of drug addicts are also contributing factors for the spread of the disease.
According to statistics released by United Nations Global HIV Aids Control Program, a total of 36.9 million people in the world are affected by the deadly virus, of which 25 per cent remain undiagnosed. According to the UN report, the highest number of these people belong to East and South African states, with 19.6 million cases.
In west and central Africa, the number of HIV cases is 6.1 million, while 5.2 million people in the Asia Pacific, 2.2 million people in western and central Europe and North America, 1.8 million people in Latin America, 1.4 million people in east and central Asia, 0.31 million people in Caribbean states and 0.22 million people in the Middle East and North Africa have also contracted aids. According to the global index for aids, Pakistan stands at 35th position with the most number of patients affected by the disease.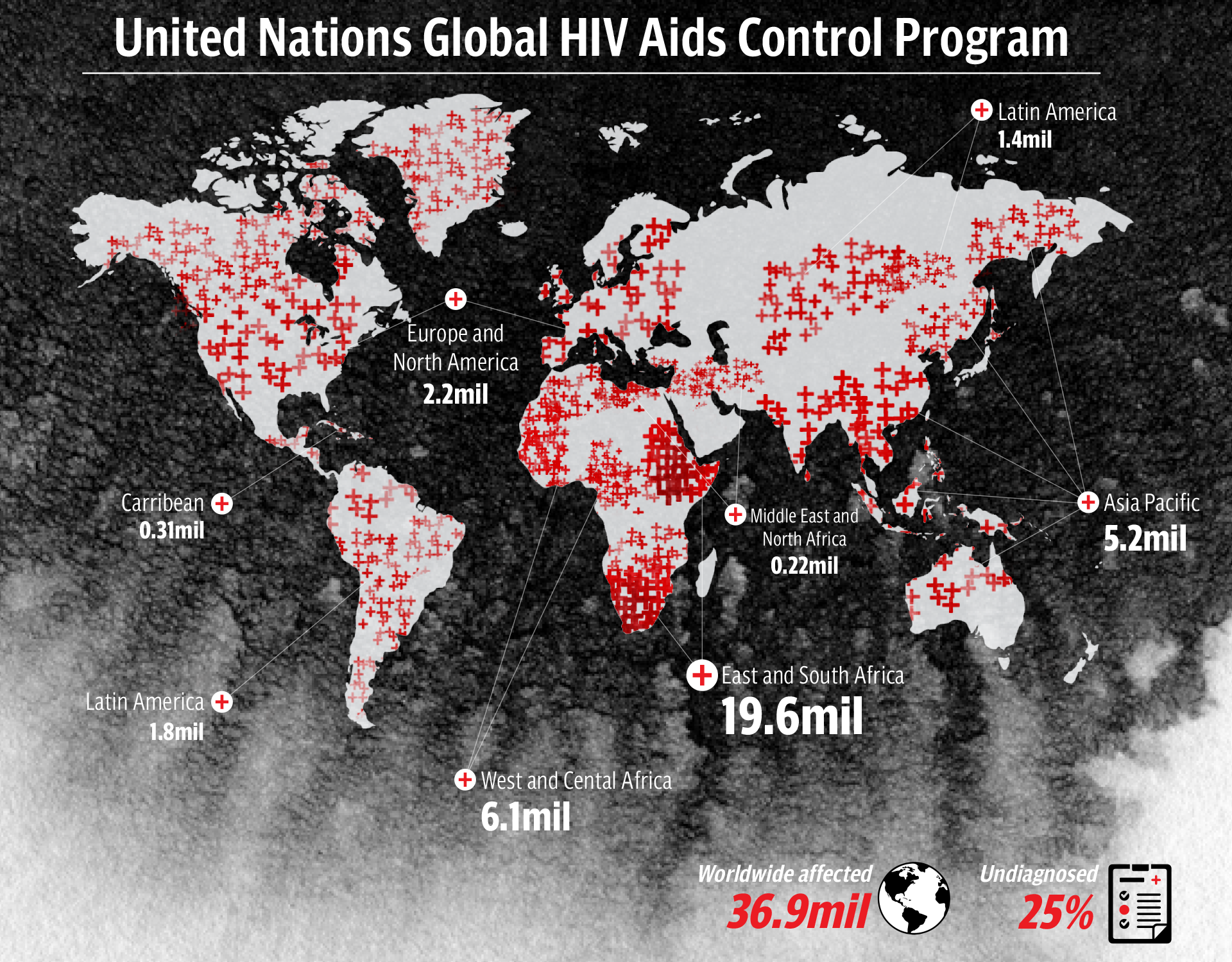 According to statistics released by the National Aids Control Program, the number of HIV cases during the past year has increased by 35,000. In 2018, the number of patients affected with aids was 130,000, which in the current year has surpassed 165,000, while an estimated 20,000 cases are being added every year, from which sixty per cent are from Punjab. According to the NACP report, Punjab has 75,000 cases of aids, followed by 60,000 in Sindh, 16,322 in Khyber Pakhtunkhwa, 5,275 in Balochistan and 6,675 in Islamabad. In addition, about 2,500 HIV patients belong to Azad Jammu and Kashmir and Gilgit-Baltistan.
Only 23,757 people inflicted with aids have been admitted or are undergoing medical treatment in different AIDS Control Centers of the country. The registered patients reflect only 7 per cent of the total HIV cases in the country, from which 15, 115 cases represent drug addicts who have contracted the disease through the use of infected syringes. These patients are being administered ARV therapy for medical treatment.
The rate of diagnostic testing for Aids is also ten per cent less, as compared to diagnostic tests for other diseases, raising alarm bells for policymakers and public health professionals in general. According to the report, the number of registered HIV aids patients in the federal capital is 2,500, while 11,000 people in Punjab, 8,000 people in Sindh, 2,370 people in Khyber-Pakhtunkhwa, and 1,334 people in Balochistan are registered for the disease.
According to the report, a total of 18,220 men, 4,170 women, 564 boys and 426 girls and 379 transgendered individuals are registered for the disease. According to the National Aids program, the virus has been confirmed in more than 1000 jailed prisoners all over the country. The Aids virus was found in 480 prisoners of Punjab prisons, 296 prisoners in jails of Sindh, 181 prisoners of Balochistan prisons and 56 prisoners of KP.
According to the report, more than 6,000 patients have been afflicted with this disease and died as a result of it all over the country. The federal capital Islamabad, Punjab's Lahore, Faisalabad, Sheikhpura, Rawalpindi, Sargodha, Rahim Yar Khan, Multan Chinniot, DG Khan, and Sindh's Karachi, Larkana, Hyderabad, Sukkur, Mirpurkhas, Sanghar, Qambar ShahdadPur, Benazirabad are the places most affected by Aids.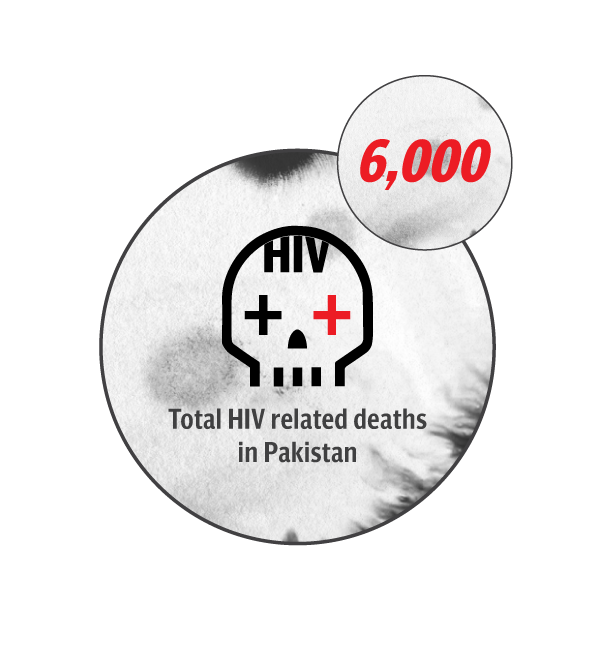 In Balochistan, the areas of Quetta, Zhob, Loralai, Pishin, Qila Saifullah, Noskhi, Qila Abdullah, Lasbela, while the areas of Peshawar, Kohat, BANNU, Charsadda, Swat, Lakki Marwat, Abbottabad, Malakand division, Mansehra, Mardan, Hangu and Chitral in the K-P are among the affected cities.
According to the report, the National Aids Control program has opened 25 Aids Treatment Centers all over the country, which tries to prevent the transfer of Aids virus from the mother to the baby during pregnancy. 33 HIV treatment centres have been formed, while 11 new treatment centres will be formed, suggest reports.
In Punjab, Primary and Secondary Health Department Additional Secretary and Punjab Aids Control Programme Project Director Dr Asim Altaf told The Express Tribune that the programme has registered around 12,000 HIV patients in the province, of which around 7,500 are getting free medical treatment. He highlighted that the program has taken various initiatives to prevent and halt or contain new HIV infections and improve the health and quality of life of people living with HIV in Punjab.
Dr Altaf highlighted that Punjab is the first province in Pakistan that has established a BSL-3 Advanced Diagnostics Laboratory which provides a complete package of services and is equipped with latest flow cytometry machine, gene expert, CD4 count machine, and has the capacity to perform viral genotyping and HIV resistance testing for initiating or switching ART.
The program, in partnership with the Walled City Authority of Lahore (WCLA) and Akhuwat Foundation, has initiated a project in the city's red light area for children of unknown parentage and families of people with high-risk behaviour. In addition, the program has started Pakistan's first-ever clinic for transgender persons at Fountain House, and set up HIV screening centres in 38 jails in Punjab.
The program has also partnered with the Lahore University Management Science (LUMS) for research in bioinformatics and analysis of epidemiological data. The program offers scholarships to MPhil and PhD students doing research on HIV and has provided training to healthcare providers on HIV treatment, counselling and stigma reduction in 15 districts at DHQ, THQ and teaching hospitals across Punjab.
He further highlighted that the program is providing services to 22,709 injecting drugs users, who have the highest prevalence of HIV/Aids (between 20-35%). The program registered all those injecting drug users in prisons during mass jail screening activity, and the National Aids Control Program runs a national program for their rehab implemented by Nai Zindagi.
Similarly, the program provides services to 13,461 transgender people. The program works in collaboration with Akhuwat Khawaja Rehab Program and Khawaja Sara Society of Pakistan.
Dr Altaf said the program is also providing services to bridging population connected with these vulnerable segments. The program has tested 25,786 bus and truck drivers at 20 sites spanning 14 cities. It has screened over 89,009 jail inmates in 2017-18 covering all prisons, and this is an ongoing activity which is still underway in different districts. The program has also screened 174,000 TB patients for HIV, including those at sentinel sites. For the general population, the program has been organising health week and other awareness-raising programs. In 2018, during a mass screening campaign, the program tested 667,424 people for HIV.
Protection
Avoiding sexual indiscretion is paramount. If a syringe needs to be injected then make sure the syringe is new. Transfusion of blood should only be carried out if necessary, and after making sure that the blood is free of HIV. Aids does not spread by shaking hands, eating food and walking with an Aids patient. Hence, there is no need to run away from this disease.
If treatment is not carried out after the diagnosis of the HIV virus, then threats of other diseases like a bacterial infection, cancer, phlebitis and scrofulous increases. The HIV virus cannot currently be treated but can only be controlled, allowing the patient to lead a healthy life. There are 33 centres of HIV Aids which provide free test and medicines.
The Aids disease spreads due to a virus called HIV which is also called the virus that renders the immune system of the body useless. Usually, it is spread due to sexual indiscretion, or the use of an affected syringe, or any affected equipment that prickles the skin, nose, ear and those that are used in dental treatment. Equipment used for cutting hairs or shaving, or used during surgery may also spread this virus if they are affected. Aids is called the last stage of the HIV virus. If HIV is not treated, then the immune system is destroyed and it takes the shape of Aids.
The initial symptom of Aids can be a common cold which usually is not paid attention to. A patient of Aids may seem healthy for months or even for years. The patient gradually becomes a patient of Aids. Other major symptoms include loss of body weight by more than 10% within a short time or diarrhoea or fever that lasts more than one month.
Stigma attached to HIV/AIDS raises concerns that actual number of infected people may be significantly higher
PESHAWAR: Although different reports suggest different estimates for the number of HIV/Aids carriers in Pakistan, none rank the country among those worst affected by the virus. Officials, however, fear that the numbers are higher than reported and are likely to increase because the most vulnerable population groups rarely get themselves screened, and it is even rarer for them to get themselves registered with government agencies due to the stigma attached to the incurable disease.
After HIV/Aids was first detected in 1981, people began associating the disease with homosexuality, although this was never actually the case. People then believed drug use was a factor, and the disease began being labelled as self-inflicted harm.
It wasn't until wider awareness was generated that people began to understand that many victims may have been infected through no fault of their own. Unscreened blood transfusions, unsterilised surgical equipment, and shared shaving equipment are all possible sources of infection.
What is true is that needles shared by injecting drug users remain a significant cause.
According to statistics available with the National Aids Control Program (NACP), prior to the ongoing crisis in Larkana, some 23,757 people living with HIV/Aids had been registered at different government centres, commonly known as Family Care Centre (FCC), with 5,115 of these being injecting drug users. But only 15,821 of the registered persons were regularly visiting government health centres and were on medication for the disease.
According to Dr Baseer Achakzai, national manager for National Aids Control Programme, if more people that appeared, got screened, and were registered with the programme, it would be successful, but if people refused to get screened and registered, the number of cases would invariably increase.
"If someone does not report or get registered, the virus would be transmitted to their husband or wife, and then ultimately to their kids," Achakzai told The Express Tribune.
NACP data shows the number of HIV/Aids patients is estimated at around 165,000, based on data collected from 23 locations – 13 in Punjab, 6 in Sindh, and 2 each in Baluchistan and Khyber-Pakhtunkhwa (K-P).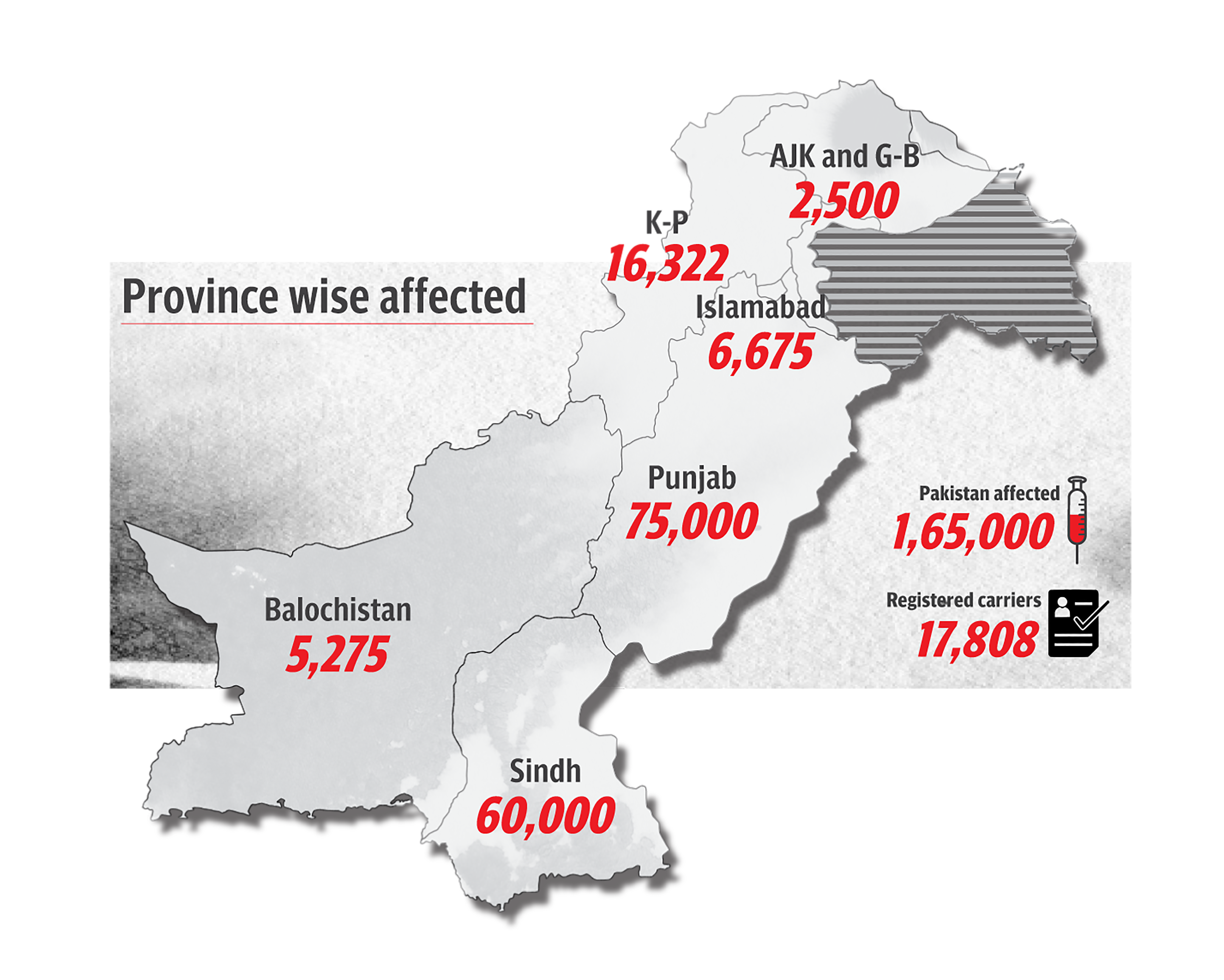 Among the different population groups, the most alarming situation, according to programme officials, was among transgender (TG) persons, adding that transgender persons were always reluctant to get screened or registered with the FCCs.
Officials also said that transgender persons had been grouped into transgender sex workers (TSW) and non-sex worker transgender (non-TSW) for recordkeeping.
Infected TSWs were slightly younger and their ages varied from 22 to 27 years old, as compared to Non-TSW persons, who were mostly between 25 to 29 years old, according to the Integrated Biological and Behavioral Surveillance (IBBS), a study carried out 2016-17. Approximately six per cent of all transgender persons were aged between 13 and 19 years of age, while the highest proportion (33.7%) of all transgender persons was between the ages of 25 and 29 years, the survey said.
The study reveals that TSWs began doing sex work when they roughly 16 years old and remained involved in the profession for approximately 10 years, adding that 87.2 per cent of TG persons were unmarried – 87.3 per cent of TG-SWs and 85.7 per cent of the Non-SWs – while 44.5% were illiterate – 43.4 per cent TG-SW and 53.1 per cent Non-SWs. Around 69 per cent lived in deras – houses specified for transgender persons – 69 per cent of TG-SW and 63 per cent Non-SWs.
The study reads that one out of every five transgender persons interviewed did not hail from the city they were living in, and overall average monthly income was reported to be Rs20,000 per month from all sources, on average, which include Rs10,000 per month from sex work.
Female sex workers
The survey covers in detail the prevalence of HIV among female sex workers (FSW) and has found it to be the lowest among all key populations. A total of 118 FSWs tested positive for HIV, with Sukkur reporting the highest prevalence of HIV among FSWs with 8.8 per cent, followed by Larkana and Mirpurkhas with 4.1 per cent each, Nawabshah 3.8 per cent and Peshawar 3.0 per cent. No HIV positive cases were reported among FSWs from Turbat, Quetta, Sialkot, Bahawalpur, and Kasur.
The average age of the FSWs interviewed was 27, while 6.6 per cent of interview subjects were under 20. The average age for initiation in sex work reported by the FSWs was 22, and the average length of involvement in the profession was almost six years.
Brothel-based FSWs, however, began work as young as age-20 and reported being involved in sex work for seven years. Almost half of the FSWs – 46.9 per cent – were married, while some 3.4 per cent were widowed. Separated or divorced accounted for 12.9 per cent of women interviewees.
Of the FSWs with children, 82.9 per cent are or were once married. Among unmarried FSWs, some 40.4 per cent worked in brothels, while 38 per cent only worked out of their own homes. 79 per cent, the largest number of FSWs interviewed, were living in their own homes. 38 per cent of FSWs reported that they consistently used condoms with clients in the last month, and 10.9 per cent reported using protection with non-paying partners as well. Overall, 15.6 per cent of FSWs reported using a condom in their last paid anal sexual act.
Male sex workers
Unlike previous surveillance reports where only male sex workers (MSW) were included and interviewed, IBBS 2016-17 included samples of all men involved in same-sex activities (MSM), including MSWs. While carrying out the surveillance in all cities mapped, IBBS 2016-17 was able to identify 46,264 MSMs at 8,606 geographical spots, including a small proportion of MSWs as well.
Of the total 6,773 MSM tested for HIV, 250 tested positive for an overall weighted prevalence of 5.4 per cent, with 9.7 per cent, the highest prevalence for HIV overall among MSM, reported for Kasur, followed by 9.2 per cent from Karachi, and 7.5 per cent from Nawabshah. Among the 22 cities where IBBS was conducted, no MSM tested HIV positive in Sargodha or Sialkot.
Around 75% of all MSMs interviewed said they were unmarried, and some 22.7 per cent reported that they were married. MSWs started sex work at an average age of just 16 and had been involved in sex work for an average of seven years. The highest proportion of married MSWs, 38.5 per cent was reported from Hyderabad, followed by 38 per cent from Bannu, and 37 per cent from Faisalabad.
Approximately 41 per cent of the MSWs solicited clients by walking the streets and around public places like bus stops and markets, while 38 per cent reported using cell phones to meet clients.
Usage of injected drugs is among the leading causes of HIV infection in the country
PESHAWAR: Bilal sits and waits for his medicine at the office of a healthcare charity in Gulbahar, Peshawar.
"I was an injecting drug user (IDU)," admitted the 30-year-old, explaining when staff from a healthcare charity checked him and told him that he was HIV positive, "my whole world changed."
Bilal started using drugs when he was just 16. He said that after he was diagnosed, he was sent to Islamabad for two months of regular treatment, after which he returned home.
Although he still needs to come in for regular doses of medication to control the disease, he said he is mostly fine and has quit drugs, which has also allowed him to maintain a daily wage job to help care for his family, which includes two daughters and a son.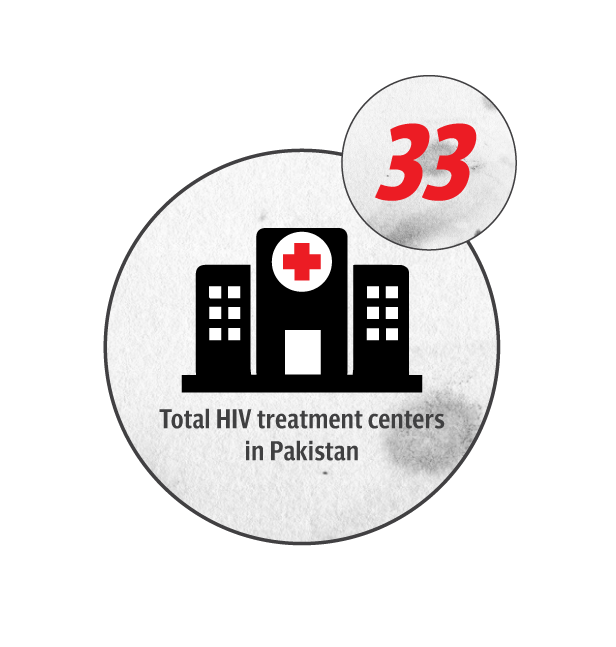 Bilal is one of the thousands of IDUs with HIV/Aids in Pakistan. Interestingly, over 99% of IDUs are male, according to estimates from the National Aids Control Programme.
Muhammad Shuaib Khan, a site manager with Nai Zindagi Trust – which helped Bilal – said that since April 2017, their work in Peshawar district had brought them across 807 infected IDUs including five women who had been registered with the trust.
The IBBSP survey report said that the average age of IDUs was 32, with a median age of 30. Approximately 44% of IDUs are under 30, while 50% were unmarried, 37.7% admitted they were married when surveyed.
Nearly 40% of the PWIDs interviewed were illiterate, and 30.4% admitted to being homeless, living in open spaces such as streets or shrines. Median monthly among IDUs was roughly Rs10,000 Approximately 40 per cent of IDUs with HIV reported having sexual intercourse within the past six months, and use of protection was rare, with only 15.8 per cent reporting using a condom in their most recent encounter.
Interestingly, the report further added that nearly 28.3% of IDUs had relations with a female sex worker in the past six months, with an average of almost six partners. Only 7.7 per cent of them used condoms with FSWs. Another 23.6% of IDUs had relations with male or transgender sex workers in the past six months. Condom use in these cases was even lower, at 5.8%.
The report estimated a total of 37,137 IDUs spread at 7,401 spots in 14 cities of Pakistan. Of the total estimated number of IDUs mapped, almost two-thirds were reported from Karachi, which has 24,036 IDUs.
Bahawalpur reported the second-highest estimate, with 2,755 or 7.4% of the total estimated number of IDUs. The third highest estimate was reported from Hyderabad, with 2,164. Only 47 IDUs were reported in the mapping exercise, with 44 reported from 19 spots.