Blood For Justice
Can capital punishment prevent
child sexual abuse?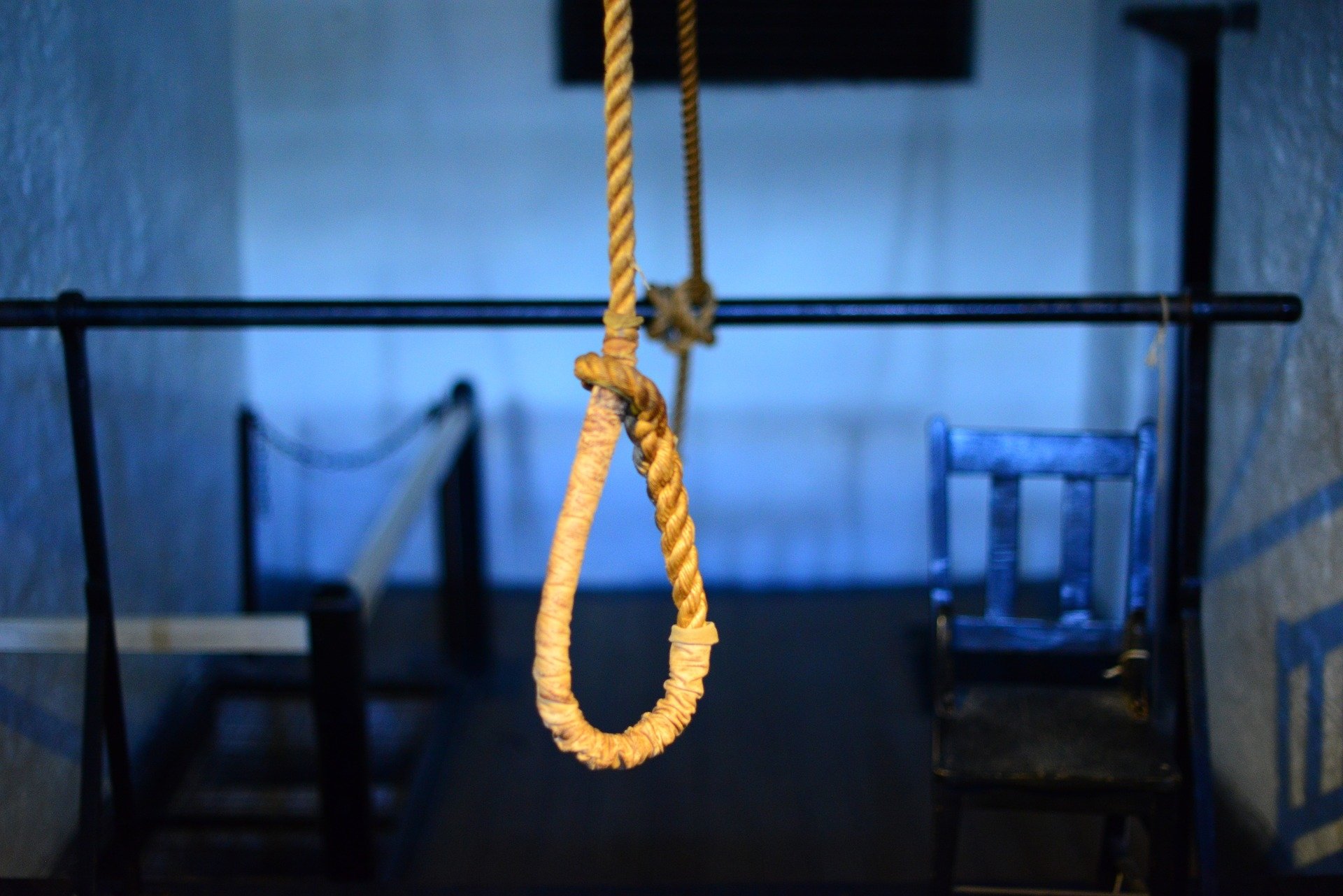 Owing to the increasing number of child sexual abuse (CSA) cases in the country, citizens demand the government must publicly execute all offenders to curb the crime. The Express Tribune talks to lawyers, human rights campaigners, child rights experts, and forensic psychiatrists to find out whether capital punishment is an effective solution.
Two years after the brutal rape and murder of six-year-old Zainab Ansari – an incident that shook the nation's collective conscience and led to a lot of hue and cry – horrific sexual crimes against children still seem to be on a rise.
On October 8, 2020, a two-and-a-half-year-old girl was first abducted, raped, and then killed in Chardadda, Khyber-Pakhtunkhwa.
In early September, a five-year-old girl from Karachi was raped, hit on the head, and set on fire. Her torched body was recovered by the police two days after she was reported to have gone missing.
In July 2020 alone, several sexual abuse cases against minors made headlines in the country. A man was arrested on charges of sexually assaulting a four-year-old, mentally challenged girl in Okara, Punjab. Similarly, a case was registered against a man for allegedly raping his 12-year-old cousin sister in Khara Village in Kasur, Punjab – the same district where Zainab Ansari was raped and murdered in 2018.
In another incident, a teacher at a private college in Sargodha, Punjab, was booked and arrested for allegedly kidnapping and raping his 17-year-old student. In Khairpur, Sindh, a retired schoolteacher was found to have been raping and filming several minor students who went to him for after-school tuitions. Local police arrested the suspect Sarang Shar on July 17 after images and videos of him raping a 10-year-old boy circulated on Twitter.
According to a report by Sahil, an organisation working for child protection, in the first half of 2020, as many as 1,489 children – at least eight per day -- fell prey to sexual abuse. The victims included 785 girls and 704 boys. The report also showed that in 822 cases, the culprits were acquainted with the victims or victims' family, while about 135 cases involved strangers.
Shockingly, in 98 cases, the victims were only one to five years of age, while in 331 cases, they were between six and ten years old. In 490 incidents, the age of the victim was between 11 to 15 years.
Demand for justice
Infuriated by the growing number of rape and sexual abuse cases against children over the recent past, internet users and human rights activist from across Pakistan started a social media campaign and demanded the government sentence all rapists and child molesters to capital punishment. Consequently, hashtags like #CapitalPunishmentforRapists, #HangTheRapist, #EndRapePakistan, and #PublicHangingOfRapists emerged on Twitter and Facebook, with people from all walks of life actively partaking in the campaign. People also staged several protests across the country, where they held placards and chanted slogans related to the execution of rapists and child molesters.
It was not only the public that asked for stricter punishment for sexual crimes against children, but many lawmakers also echoed similar sentiments. Earlier this year, the National Assembly passed a resolution calling for the public hanging of offenders convicted for sexually abusing and murdering children. The Minister for Human Rights Shireen Mazari, the Minister for Science and Technology Fawad Chaudhry, and Pakistan Peoples Party (PPP) leader and former prime minister Raja Pervez Ashraf, however, condemned the move.
But last month, Prime Minister Imran Khan called for the public execution of criminals involved in sexual abuse of women and children. Speaking to a private news channel in response to the Lahore-Sialkot Motorway incident, where a woman was raped in front of her children by two men on September 9, PM Khan also suggested the physical and chemical castration of habitual rapists to stop them from committing such crimes in future.
Why people support capital punishment?
The Express Tribune carried out an online survey to understand Pakistani citizens' stance on capital punishment for CSA offenders. Out of 200 respondents, 35 per cent say they support the death penalty, while 58 per cent advocate the public execution of rapists. Some five per cent say they do not believe in capital punishment at all.
To Kanwal Hassan Khan, a stay-at-home mom of two young girls, sexual violence against children is the worst type of crime that a person can commit. She, therefore, thinks that offenders do not deserve to live.
"I think that raping or molesting children warrants nothing but capital punishment because, as a mother, I will never be comfortable knowing that the criminal is still alive and on the loose. As long as such criminals are alive, every child is at risk," she says. "Death is the only answer."
Dr Hina Kanwal Khan from Karachi holds a similar opinion. According to her, if the government cannot sentence rapists to capital punishment, then the public should be able to take the law in their hands.
"Let parents kill the culprits themselves. I say this because raping or sexually abusing children is a heinous crime and offenders do not deserve any sympathy. They should not even undergo trial; we must end their lives immediately after catching them."
Adil R Hussain, a communications professional from Karachi, says that he supports public executions of rapists because the practice is far more effective than punishments in cells, adding that the spectacle would provide the public with a sense of relief and satisfaction.
"Publicly hanging the rapist is the most humiliating way of dying, and even the worst of criminals would not want that to happen to them. Therefore, the government should seriously consider this option so that nobody would dare commit such horrendous crimes against children again."
Advocate Rana Tauseef from Faisalabad, who practices at the Lahore High Court, says he agrees with people who demand the death penalty for rapists.
"The Apex courts are in favour of the death penalty for rapists, but they are against publicly hanging criminals, calling it an abuse of human rights," he says. "In my opinion, however, public executions will set a strong precedent, so the practice should be encouraged."
On the other hand, Azfar Khaan, a Pakistani restaurateur based in Brazil, thinks that even though capital punishment is the only answer when it comes to CSA, publicly hanging the culprits is an extreme measure and should be avoided.
"I support the death penalty for CSA offenders, but I think the idea of publicly hanging them is inhumane and beyond all the books of law. Such practices could have adverse psychological consequences for the spectators."
But is it a deterrent?
Human rights and law experts say that there is no empirical evidence to prove that the death penalty serves as a deterrent, irrespective of the nature of the crime. Research also shows that high rates of crime are often related to other underlying factors.
According to Justice Project Pakistan (JPP), a non-profit, human rights law firm, an overview of the past two decades of per-capita GDP growth, terrorism, and homicide rates demonstrates a strong correlation between economic inequality, political violence, and murders.
In years where the growth rate of the per-capita GDP is less than two per cent, the homicide rate tends to be 7.5 murders per 100,000 or above, while it is generally lower in years with higher percentage growth. This data shows that poverty and violence are inextricably linked.
"Pakistan has executed more than 510 individuals since lifting the moratorium on the death penalty in December 2014. It also has the second-largest reported death row population, but this has failed to lower crime rates," JPP's spokesperson Ali Haider Habib tells The Express Tribune. "Better policing methods and improvements in law enforcement mechanisms have been more effective. It is not the severity of the punishment but the certainty of punishment that stops criminals."
The Foundation for Fundamental Rights' Deputy Director Zunera Shahid also agrees and says there is no evidence that the death penalty serves as an effective deterrent against crime, nor that countries that impose the death penalty have fewer instances of violent crime.
"[Even though Pakistan is the fifth most prolific executioner in the world at present] international law obligates the country to impose the death penalty only after meeting the highest threshold of fair trial guarantees," she explains. "However, data from the Pakistan Capital Punishment Study unequivocally shows that almost two in five death-row inmates were convicted in trials riddled with grave irregularities. Clearly then, the death penalty is not a solution."
An exception for child sexual abuse?
The Express Tribune survey reveals that some people are against the death penalty in general but advocate it when it comes to CSA cases because of the gravity of the crime. According to law experts, however, studies have consistently shown that sentencing criminals involved in rape cases to capital punishment does not stop other criminals from committing similar offences.
They are of the view that even though rape and CSA are inexplicably heinous crimes, the state cannot counter one brutality with another.
"In Pakistan, people demand the death penalty because of their limited understanding and knowledge of the criminal justice system. They do not know how courts work, how they decide appeals, which crimes have the death penalty, and how sentences can be retributive (punish the defendant through jail) and restorative/rehabilitative (educate the offender)," states Abira Ashfaq, Visiting Faculty of Law at the Institute of Business Administration (IBA), Karachi.
According to Valerie Khan, the Executive Director of Group Development Pakistan (GDP) – an organisation working on protecting and promoting child rights and strengthening child protection and justice for children across Pakistan – awarding the death penalty to offenders for CSA-related crimes is not the answer as it goes against the best interests of the child.
"The death penalty does not work as a deterrent for CSA; we have seen the increasing number of similar cases being reported in the country despite the much-publicised decision to hang the man convicted of Zainab Ansari's rape and murder," says Valarie, who has more than 24 years of experience in the field of child protection across the SAARC region, especially Pakistan.
"Besides, by insisting on awarding the death penalty to offenders, we do not consider some critical outcomes."
Explaining the repercussions of hanging the rapists, Valarie says that the act would put victims in further danger of being killed by perpetrators to ensure that the former will remain silent, especially in cases which involve abduction.
"What people do not understand is that most CSA offenders are relatives, people close to the child's family circle, or community members. Keeping in view the stigma and the power structures in our country, guaranteeing the death penalty will only lead to a decrease in the reporting of cases instead of curbing sexual crimes against children."
"Punishing the perpetrator with death will further victimise children whose abuse will not be acknowledged, they will not be able to access justice and support, and will never get a chance to heal," she says.
Valarie cites the example of American poet and civil rights activist Maya Angelou, who was raped at the age of five.
When Angelou learned that her abuser had been executed, she was so traumatised that she stopped talking for at least five years.
"Angelou thought that if she spoke of abuse again, people would resultantly die. This feeling of guilt forced her into silence. We need to understand that the amount of physical and emotional trauma that a child experiences as a result of sexual abuse is shattering, and the last thing that a child victim needs is to be linked directly or indirectly to further violence."
In the tribal/ patriarchal context of Pakistan, awarding the death penalty to offenders of CSA may also trigger an inter-generational cycle of violence between parties as well as an inter-generational trauma.
Should vengeance trump human dignity?
Shedding light on the issue, Justice Project Pakistan's Executive Director Sarah Belal says that despite people's emotional demand for publicly hanging CSA offenders, it is still a violation of the right to human dignity enshrined in article 14 of the Constitution of Pakistan, Islamic jurisprudence, as well as in international laws.
"There is no evidence that public hangings serve as a strong deterrent for crimes, including child sexual abuse and rape," Belal, who is a recipient of the 2016 Franco-German Human Rights and the Rule of Law Prize, tells The Express Tribune.
She recalls the Pappu case from Ziaul Haq's era. In 1983, the killer of Pappu, a young boy from Lahore, was publicly executed and the body of the killer was left hanging at Chauburji Chowk for an entire day as a spectacle. Even though many believe that the hanging of Pappu's killer served as a deterrent for many years, other cases of sexual abuse were reported in Lahore the very next month, Belal states.
"People often cite the examples of Iran and Saudi Arabia, saying that public executions discourage criminals from committing crimes. If that is the case, then why do these countries continue to publicly execute people every year?"
Pakistan's Apex Court has also ruled against public executions citing human dignity as an inviolable right, Belal says. According to the section 377-A of the Pakistan Penal Code, the punishment for CSA cases warrants one-year of imprisonment, which can extend to life imprisonment along with a hefty fine of Rs1 million.
"The conviction rates are less than 10 per cent at the moment and the average time to decide a case is three to four years. Instead of sentencing offenders to the death penalty, fair trial and an increase in the conviction rates will act as a deterrent."
She adds that reinstating the death penalty for CSA offenders will place Pakistan in violation of its obligations under the preferential GSP+ status and the international human rights mechanism. The move will also overshadow the positive developments and steps taken by the government to reform the justice system, such as the Zainab Alert, Response, and Recovery Act, 2019.
Abira Ashfaq agrees and says that the visceral, emotive appeals for public hangings, backed by vague religious references, will never provide a solution to the rampant problem of CSA in society.
"The sooner we put an end to the "demand public death" discourse, the sooner we will be able to discuss actual remedies. Pakistan has ratified the International Covenant on Civil and Political Rights (ICCPR), an international convention with provisions on fair trial and sentence."
"Therefore, it should follow its provisions in letter and spirit and eliminate the number of crimes for which the death penalty should be legally available – if not abolish it altogether," she says.
"People can do bad things, but the state should not."
Trauma for children
While the debate surrounding the public execution of CSA offenders frames it as a child-protection measure, it is likely to harm the well-being of Pakistani children who witness it.
According to research into the brain and violent behaviour, exposure to any form of violence –whether personally or through media – can have a deep psychological impact on the viewers. While some people, especially children, may become disturbed for an extended period, others could internalise violence and repeat the actions that they have seen.
Citing the example of Iran, where public hangings are conducted in front of large jeering crowds, Ali Haider Habib explains that children that view such spectacles are likely to perceive them as theatrical performances, thereby becoming de-sensitised to violence.
"This is illustrated by the death of a 12-year-old boy in Iran in 2013. The boy was inspired by public executions he had witnessed in his home province of Kermanshah in Western Iran. He and his eight-year-old brother hung a rope over a lamp-post. Thereafter, the boy stood over a cart and tied the noose around his neck as his younger brother pushed the cart away that led to the tragic death," he narrates.
"Similarly, in Pakistan, a nine-year-old boy in Rahim Yar Khan, Punjab, imitated the execution of Saddam Hussein after watching it on television and hung himself with a nylon rope."
CSA offenders in prison
Like everyone else, most legal experts also believe in punishing CSA offenders through a fair trial. However, considering the loopholes in Pakistan's criminal justice system and the counterproductive nature of the death penalty, they largely oppose such forms of punishment.
According to Valarie Khan, in a vast majority of CSA cases, offenders suffer from mental health disorders, such as paedophilia, ephebophilia, and other mental health diseases.
"There is no way we can execute people whose mens rea would not necessarily be ensured at the time of the crime; if we add to the fact that most of those abusers were once children whom we failed to protect, I think that society has a duty towards their rehabilitation and treatment," she says.
"Of course, all those who were abused as kids do not become abusers when they grow up, but most abusers have been seriously and repeatedly abused as children. This is what we call the intergenerational cycle of violence that we must break if we want to protect our children."
Expounding on the topic of mental health issues among CSA offenders, Dr Khurram Khan, a UK-based consultant forensic psychiatrist, says that it is important to understand the characteristics of sexual offenders before punishing them.
"During the psychiatric evaluation of sexual offenders, we often see abnormal personality traits – they are impulsive, they have more social anxiety, and they lack empathy. They also tend to demonstrate deviant sexual fantasies, they face trouble forming relationships, and are often prone to misuse of alcohol and illicit substances."
Adding to Valerie's point, Dr Khan elaborates: "Many of my colleagues and I have observed it again and again that offenders experienced sexual abuse when they were children or adolescents. They demonstrate learning disabilities, a lack of sexual knowledge, and are unable to express normal sex drive through appropriate means. However, severe mental illness is rare among sexual offenders, including psychosis or schizophrenia, or manic depression.
Dr Khan opines that despite all the hatred that offenders receive from the public as well as the authorities, the absence of forensic psychiatric services available to offenders in Pakistani prisons can lead to a miscarriage of justice.
"The assessment of sexual offenders requires a full psychiatric history, which starts right from the birth. The assessment considers developmental milestones, childhood experiences, school incidents, inter-and-intrafamilial experiences, past medical history, previous mental health/ psychiatric history, and history of former offences," he explains.
"We then hold a mental state examination, looking into their appearance, speech, thought processes, moods, perceptual abnormalities, cognitive levels, and their insight into their problems. We also carry out risk assessment of sexual offenders within custodial settings to devise a management plan for them. It is an exhaustive process which is, unfortunately, not available in Pakistani prisons."
Dr Khan explains that it is possible to stop offenders from committing the same crime again and becoming part of society anew, but it requires time, resources, and multifactorial management.
"To ensure that there is no recidivism, a thorough psychiatric assessment of the offender along with the treatment of underlying causes is very important. If they are suffering from some mental illness that requires medication, we have to administer the medicines. In other cases, psychological therapy may be required."
Aside from treatment, strict security and probationary measures are crucial. Rehabilitation facilities are provided either in the prison or in the hospital.
"Once forensic psychiatrists ensure that the individual is fit to be released from prison, their movements and activities are monitored. All these processes are designed in collaboration with mental health services and the criminal justice system."
Once the offender is released, they are not allowed to use alcohol, illicit drugs, and contact underage people. Moreover, they remain under constant supervision of a psychiatrist or psychologist.
"This is how the criminal justice system controls the risk of recidivism or reoffending through a robust support, monitoring, and supervisory package. If no rehabilitation is viable, then lifetime imprisonment exists to ensure that dangerous individuals are not put back into society."
What is the solution?
Law experts and child rights activists strictly maintain that crimes perpetrated against children are heinous and the state must ensure improved mechanisms to make society safe for everyone. In this regard, Zunera Shahid says that the state must fulfil its promise of providing free universal education for children and families and have the economic security necessary to ensure children's wellbeing.
"Crimes perpetrated against children understandably assault our collective conscience and lead to the demand for severe and exemplary punishment to be doled out. However, any call for the imposition of the death penalty must take into account the irreversible nature of this punishment," she states.
"Our criminal justice system is perpetuating grave miscarriages of justice, resulting in wrongful convictions and executions that are egregious acts of violence being committed by the State. Nothing less than a full review of the capital punishment system in Pakistan will suffice to ascertain that the State does not undertake wrongful executions based on blind vengeance."
Abira Ashfaq agrees and says child sexual abuse, which is the most inhumane and disgusting behaviour, must be contextualised in research on mental health.
"In this way, our subjective views and perceptions of contempt, horror, and outrage will shift; protecting children and treating the mentally ill will be a priority," she says. "We need protection and compassion, forgiveness, and safety measures, as opposed to perpetuating the continuum of violence, which seems to be everyone's mental currency to fix personal and societal problems."
Concluding her remarks, Valarie Khan stresses that instead of ending the offenders' life and see it as the ultimate solution, the criminal just system as well as society must focus on the prevention of child sexual abuse.
"As a child protection practitioner, a mother, and a citizen, I consider it my priority to ascertain that no more cases of CSA happen in the first place," she says. "For the purpose, we need to address the root causes of CSA, some of which include violence and trauma experienced in the childhood, harmful practices like child marriage and Bacha Bazi, as well as socio-economic disparity."
She says that when children are treated as commodities, they are asked to silently obey orders, and are put in harmful situations, the outcomes are always going to be grim.
"We should say no to child labour as it puts children at risk. Moreover, family planning should be a priority so that parents could focus on the upbringing and protection of their children in a more effective way," she suggests. "That apart, a robust national child protection policy is the most urgent need of the hour."
Valerie explains that under the system, children or people who know that child abuse is taking place should be able to easily report the case safely and confidentially. Child protection institutions, in collaboration with the police, should be able to rescue children and protect them on a short, middle, and long-term basis.
"Monitored and security-cleared foster families should prevail over orphanages. Moreover, mass media awareness and inclusion of child protection and child rights in the curriculum is a must. Nothing will change until we train caregivers and children on how to ensure safe learning," she emphasises.
Finally, she stresses that Pakistanis also need to focus on their mindset to see some real and positive changes.
"If we do not transform our toxic patriarchal narrative into a gender-egalitarian narrative, and continue glorifying violence as a response to problems, we will not see any changes," she says.
"The state has a sacred duty to stop being emotional and focus on evidence-based, scientific solutions that belong to the 21st century and are aligned with our Constitution. The state must adhere to the best interest of the child instead of serving a political agenda."
PHOTOS: REUTERS / PIXABAY